Black Friday Savings! Use coupon code
BLACKFRIDAY10
for an EXTRA 10% OFF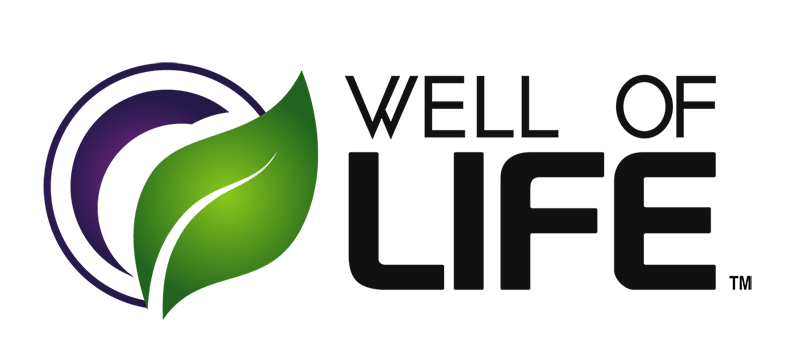 73% OFF TODAY ONLY - OFFER EXPIRES SOON
THE FORTIFIED BRAIN BUNDLE
Is there an easy way to safeguard your brain health and brain power?
Studies confirm when using the right ingredients, vitamins, and antioxidants, you can nourish and fortify your brain to protect it from toxins, pollutants, and free radicals.
Jumpstart your brain's recovery from decades of damage, and help prevent bad moods and cognitive impairment using Well Of Life™'s Fortified Brain Bundle.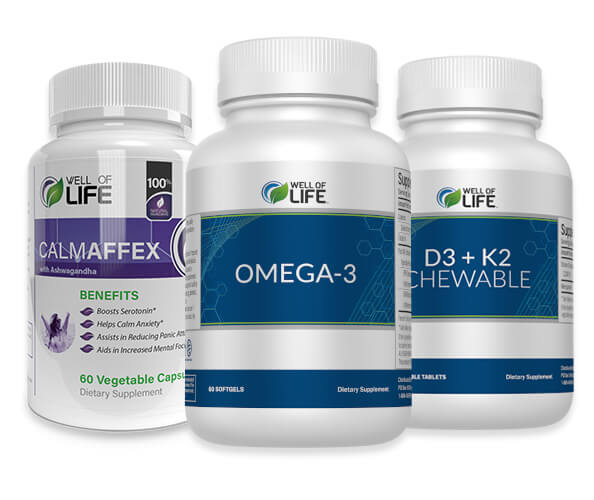 The Fortified Brain Bundle is a 3-product natural brain tonic proven to:
*This is a supplement subscription that comes with a convenient, automatic renewal.
Fortified Brain Bundle
~Starter Kit~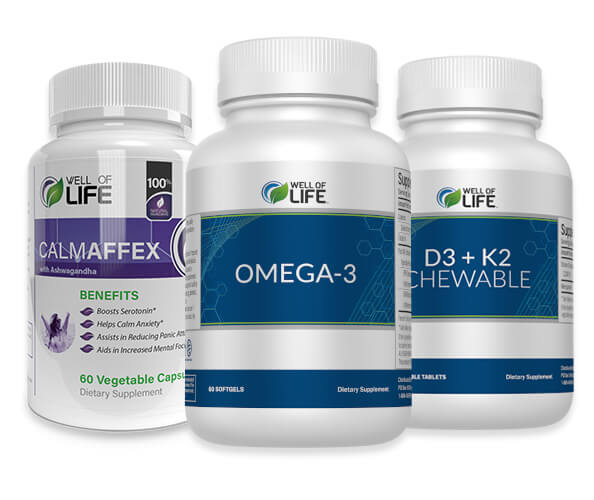 Fortified Brain Bundle
~Classic Kit~
BEST VALUE
INSTANT SAVINGS: $462.55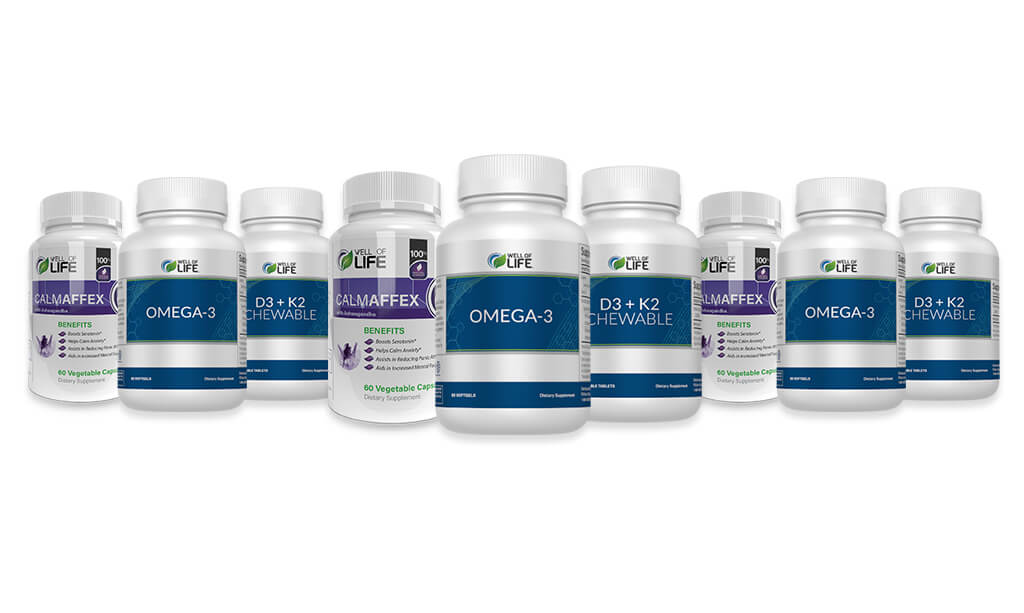 $167 Every Three Months
EXTRA 14% DISCOUNT
(only $18.55 per bottle)
Fortified Brain Bundle
~Complete Renewal Kit~
Fortify Your Brain Cells Using The Vitamins, Minerals, and Tonics That Help Brain Health, Memory, Happiness, And Sleep
HELPS MAINTAIN A HEALTHY BRAIN AND COGNITIVE FUNCTION
Solid research has proven again and again that certain ingredients, such as Omega-3, have brain-healing properties.
The dietary supplements included in our original Brain Fortified Bundle have multiple brain-nourishing properties, from strong antioxidant protection to helping brain cells restore their healthy functioning.
HELPS WITH STRESS MANAGEMENT
Ever felt you're chronically anxious, stressed down, and worn out?
The consequences of chronic stress are dangerous.
From insomnia to memory loss, and constant irritability, stress, and anxiety really take a toll on your emotional — and even physical — health.
Our formula is developed to help you with stress management, enabling your brain to deal with your daily life stressors more easily.
PROMOTES A GOOD NIGHT'S SLEEP
Sleep is essential for our brain's health, but how many of us can really enjoy a full 7-8 hours a night of sleep, without any issues falling asleep and staying asleep… Not to mention waking up feeling refreshed and ready for everything life's throwing at you?

Our proprietary blend of natural ingredients is shown to promote deep sleep during the night — And prevent daytime sleepiness and sluggishness.
HELPS REDUCE BRAIN INFLAMMATION
Brain inflammation is one of the most common – and reversible – causes of brain disease and neurological damage. This is why our formula is packed with antioxidants and vitamins that fight against the free radicals that are damaging your brain cells and putting your brain health at risk.
The Fortified Brain Bundle contains 3 dietary supplements to promote brain health:
Omega-3 Fish Oil ranks among the most important dietary supplements you can add for a healthy brain, and for very good reasons.
According to studies, people who consume Omega-3 Fish Oil regularly are less likely to be depressed — And even if you're suffering from anxiety and depression right now, your symptoms may decrease significantly once you start supplementing with Omega-3.
Our proprietary Omega-3 comes from harvested anchovies from Peru. This is a wonderful source for potent Omega-3, and exactly what the doctor ordered if you want to support optimal neurological function, healthy cognition and memory, and long-term brain health.
Several studies link the Omega-3 intake to a decrease in mental decline due to old age — And a reduced risk of developing Alzheimer's disease.
Omega-3 supplements have been proven to be beneficial at the onset of Alzheimer's when you're just starting to experience the first symptoms.
Moreover, it has been proven that supplementing with Omega-3 has a profound effect on your overall health, because of its multiple health benefits:
Omega-3 Fish Oil may reduce inflammation, help you fight against autoimmune disease, and may improve joint health and cardiovascular health — not to mention it has been proven to impact healthy cholesterol levels and promote healthy vision.
One U.S. government study found that American adults are not meeting recommended levels for fish and Omega-3 fatty acid intake.
Each recommended serving of our formula provides 1440 mg of heart healthy Omega-3's (864 mg EPA and 576 mg DHA) with a pleasant lemon flavor.
All-natural formula. Free of GMOs, sugar, gluten, hormones, and binders. Made in the USA.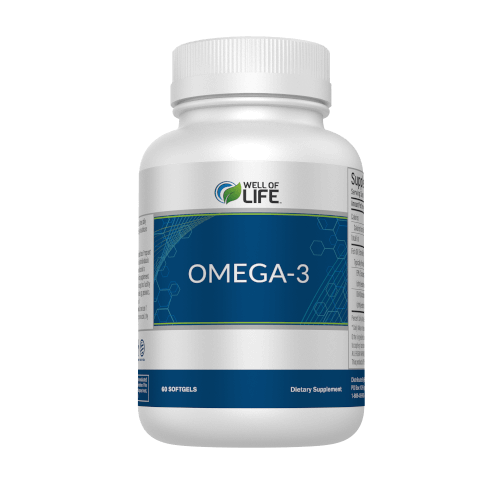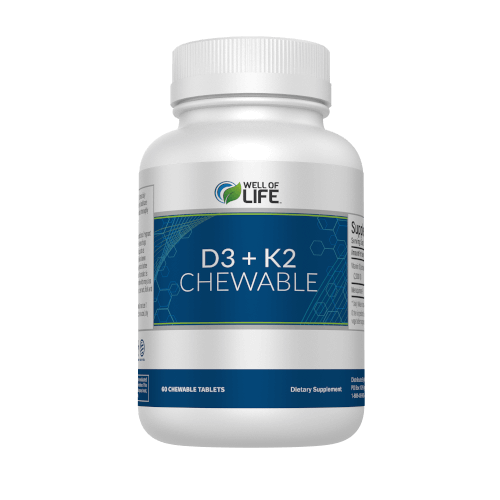 Research indicates that 41.6% of adults are deficient in vitamin D3.

Moreover, about 80% of Americans do not get enough vitamin K2 in their diet.
These fat-soluble vitamins play many critical health roles — they're essential for optimal functioning of the brain, cardiovascular system, immune system, bones, muscles, and many other organs.
The special form of vitamin K2 called MK-7 has been the subject of much research, because it stays active in your body longer. This way, you are able to benefit from much lower levels.
Research shows that MK-7 may help balance the inflammatory process in the body. It also activates proteins that control cell growth.
Our formula includes BioPerine®, a patented source of piperine, the active compound found in pepper. BioPerine® has been clinically shown to increase the bioavailability of nutrients.
All-natural formula. Free of GMOs, sugar, gluten, hormones, and binders. Made in the USA.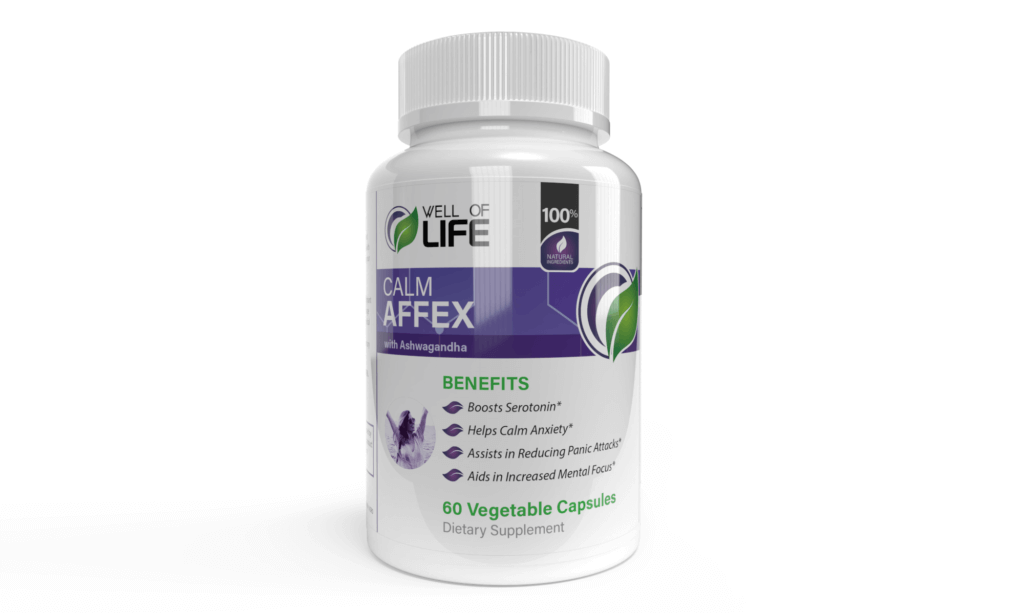 This proprietary blend works remarkably well for people who are suffering from anxiety and chronic stress.
Modern lifestyles expose people to constant stress. That means stress hormones like cortisol often stay elevated and the body remains on "high alert."
Over time, this impacts overall health, mood, sleep, and the ability to relax. Constant stress robs the body of vitality, good health, and energy.
CALMAFFEX includes a comprehensive blend of herbs and nutrients, including:
L-theanine: This amino acid increases GABA (gamma-aminobutyric acid), an inhibitory neurotransmitter that not only induces relaxation but also produces a sense of well-being. L-theanine also helps maintain healthy levels of dopamine, a critical brain hormone that is depleted by age-related stress factors.

Ashwagandha: This Ayurvedic herb has been used for centuries to enhance mental and physical vitality, and mitigate the effects of stress. Modern science has confirmed that this time-honored adaptogen helps reduce cortisol levels, and stress signs and symptoms.

Valerian: The herb valerian has been used for sleep and relaxation purposes for thousands of years. Valerian appears to affect certain brain neurotransmitters to reduce brain activity, and induce relaxation and sleep.

Chamomile: Has a long history of use as a calming and sleep-inducing agent. Scientists believe this may be due to the compound apigenin in chamomile, which binds to specific brain receptors with relaxing, sedative-like effects.

Rhodiola: Supports emotional well-being and mental energy, and enhances energy levels by helping the body adapt to stress in a healthy way.

Bacopa: Used in Ayurvedic medicine for centuries to reduce stress, improve mood, and sharpen focus. Modern research shows that bacopa relieves stress in part by lowering cortisol levels.
Lemon balm: This perennial herb in the mint family has been shown in studies to help promote deep sleep at night and relaxation during the day. It also supports healthy cognition.

St. John's Wort: Helps relieve irritability, fatigue, and mood changes caused by everyday stress.

Griffonia seed extract 5-HTP: A precursor to serotonin, a crucial neurotransmitter that regulates healthy mood function.

Passion Flower: This calming herb helps increase brain levels of the neurotransmitter GABA, for nervous system relaxation. It's been shown to lower stress and anxious feelings, as well as promote restful sleep.

Magnesium: The mineral magnesium stabilizes mood to promote feelings of calmness and well-being. It also plays an essential role in nerve function and is crucial for healthy sleep. Magnesium levels diminish with advancing age.

Vitamin B complex: Includes vitamins B1, B2, B5, B6, and niacin. Vitamin B complex is well known for reducing stress, supporting relaxation, and maintaining energy.

Additional ingredients include zinc, biotin, calcium carbonate, potassium gluconate, skullcap, lutein, hawthorn, magnolia, oat straw, Mucuna pruriens, hops.
The Fortified Brain Bundle provides you with every mineral, vitamin, and healthy ingredients necessary for significantly boosting your brain health - starting from the cell level.
View Our Ingredients Below

Manufactured in the USA, using domestic and international ingredients
The package includes precise instructions, dosages, and safety precautions.
The Fortified Brain Bundle is doctor-approved and designed to be taken as a set in order to achieve maximum brain health and cognitive performance.
The one-time payment will ensure you get the complete supply of natural, healthy ingredients for depression and anxiety relief, and healthy brain functions.
The Fortified Brain Bundle by Well Of Life™ is manufactured in the USA in a strictly-controlled FDA-approved facility.

When choosing any Well Of Life™ bundle package, you can relax knowing we use the very best ingredients: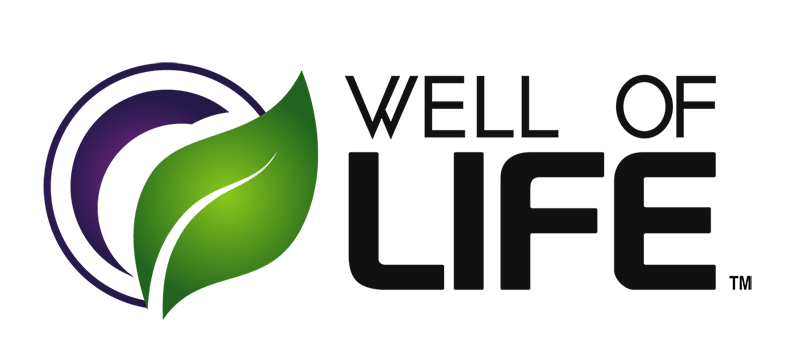 1-Month Protocol Package includes:
With any purchase of The Fortified Brain Bundle , you receive 5 exclusive bonuses: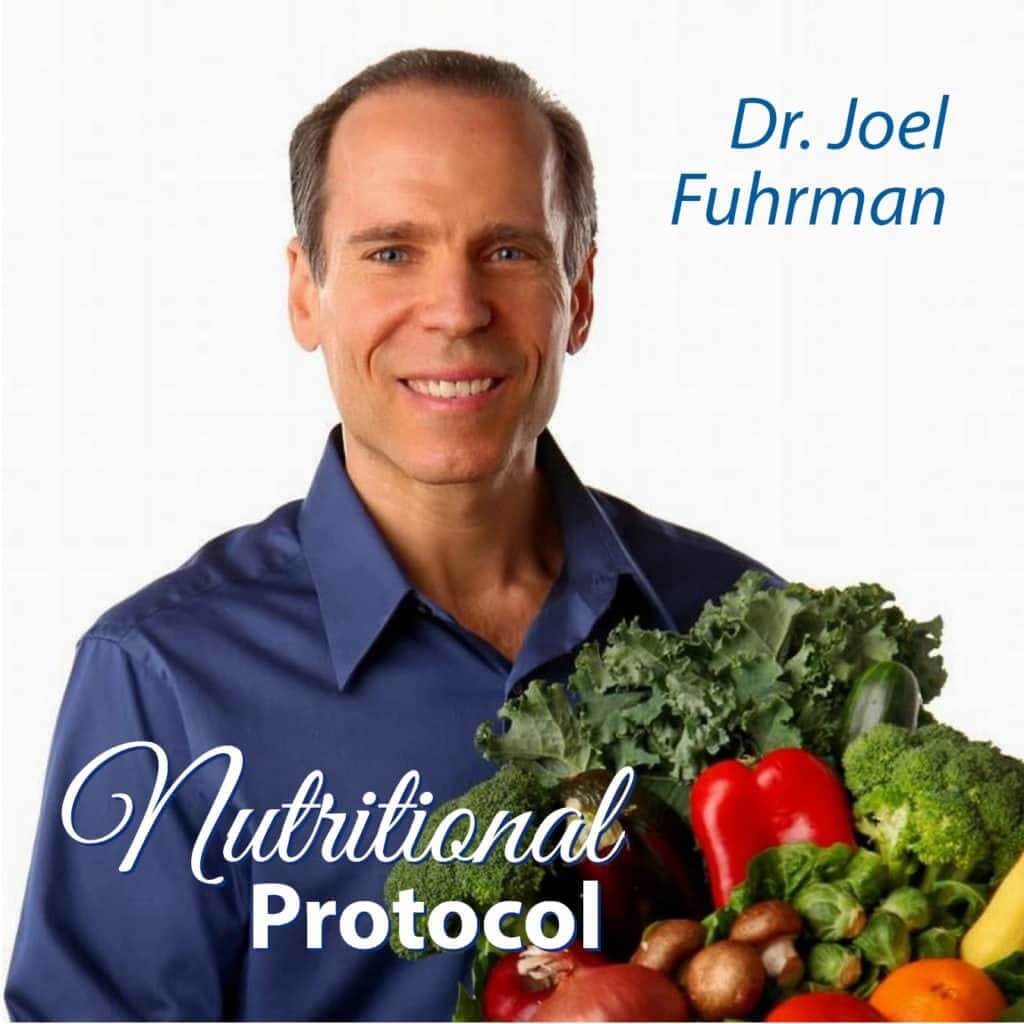 Nutrition Protocol With Joel Fuhrman
Dr. Fuhrman, one of the top nutritional researchers today, reveals in this training video his top dietary tips for a healthy quality of life into old age. You'll see which foods to avoid, along with special precautions for vegans and practitioners of many common diets. Plus, you'll discover the top nutrients and foods to help depression, anxiety, insomnia, and many other conditions
Regular Price: $67
TODAY: FREE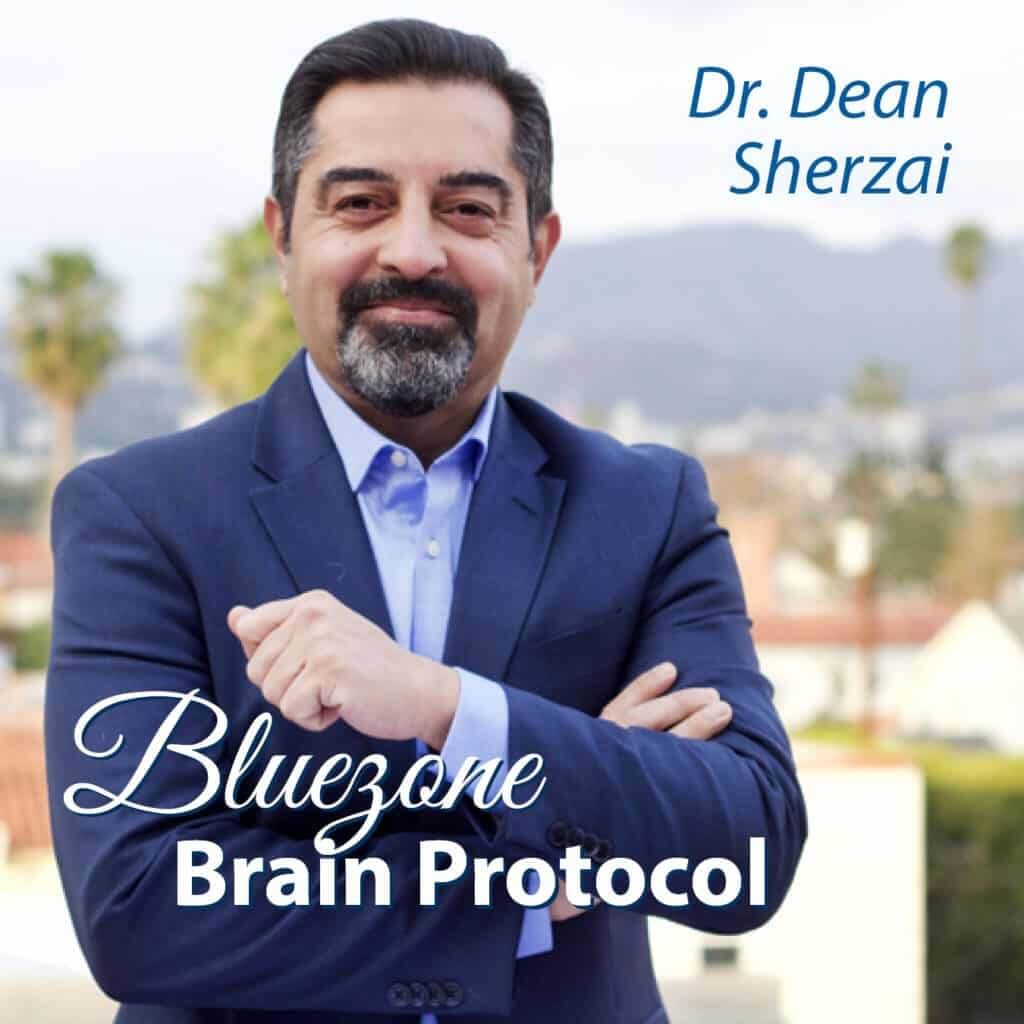 Blue Zone Brain Protocol With Dr. Dean Sherzai
This training video details the specific diet responsible for the shockingly low rate of dementia in the well-studied California blue zone population. You'll also discover the best kinds of brain activity to preserve cognitive function (not Sudoku or computer games), along with the simple lifestyle activity that is 3 times better than any drug for helping depression and anxiety. ($67 Value)
Regular Price: $67
TODAY: FREE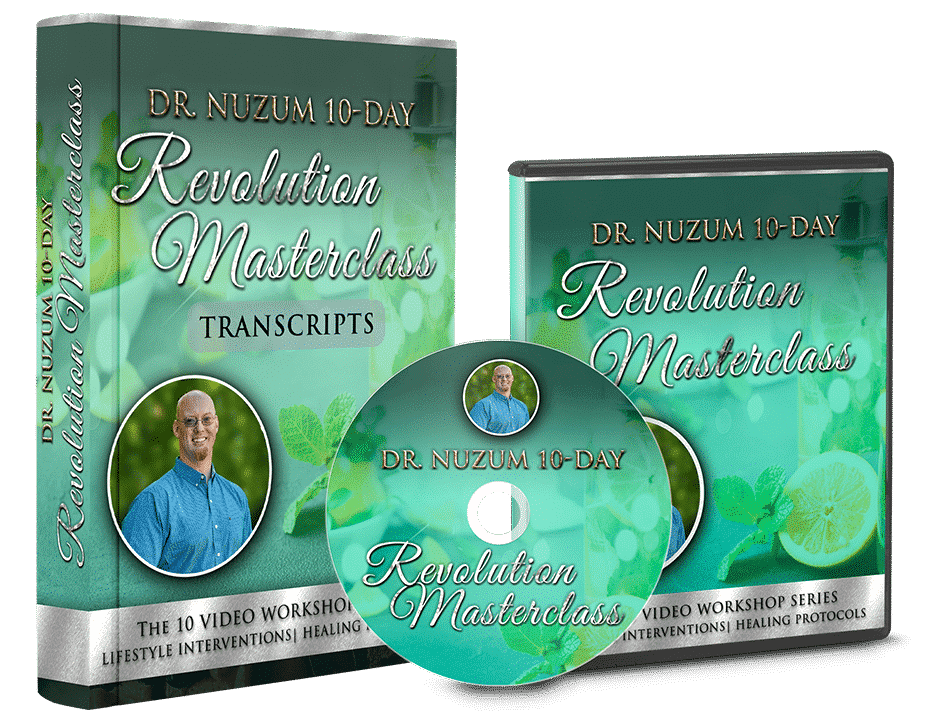 FREE BONUS #1: Dr. Nuzum 10-day Revolution Masterclass Training
Receive our best-selling 10-hour long training videos with one of our best doctors, Dr. Nuzum, in which he goes in depth about male and female hormone balancing, detox protocols, and alternative remedies that DO work when modern medicine fails.
Regular Price: $197
TODAY: FREE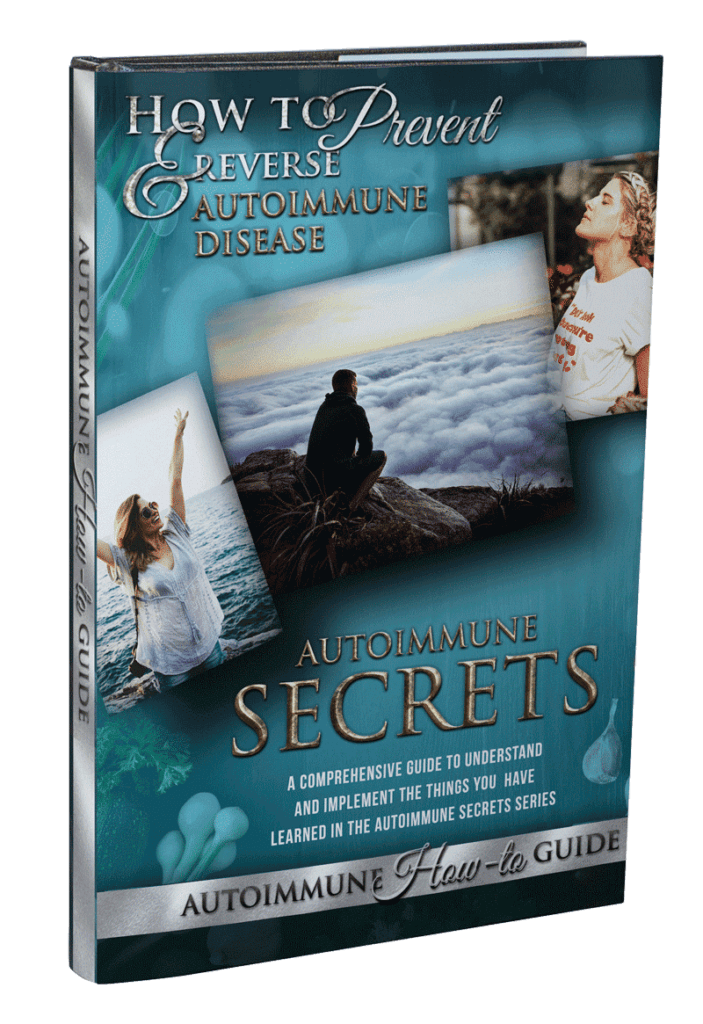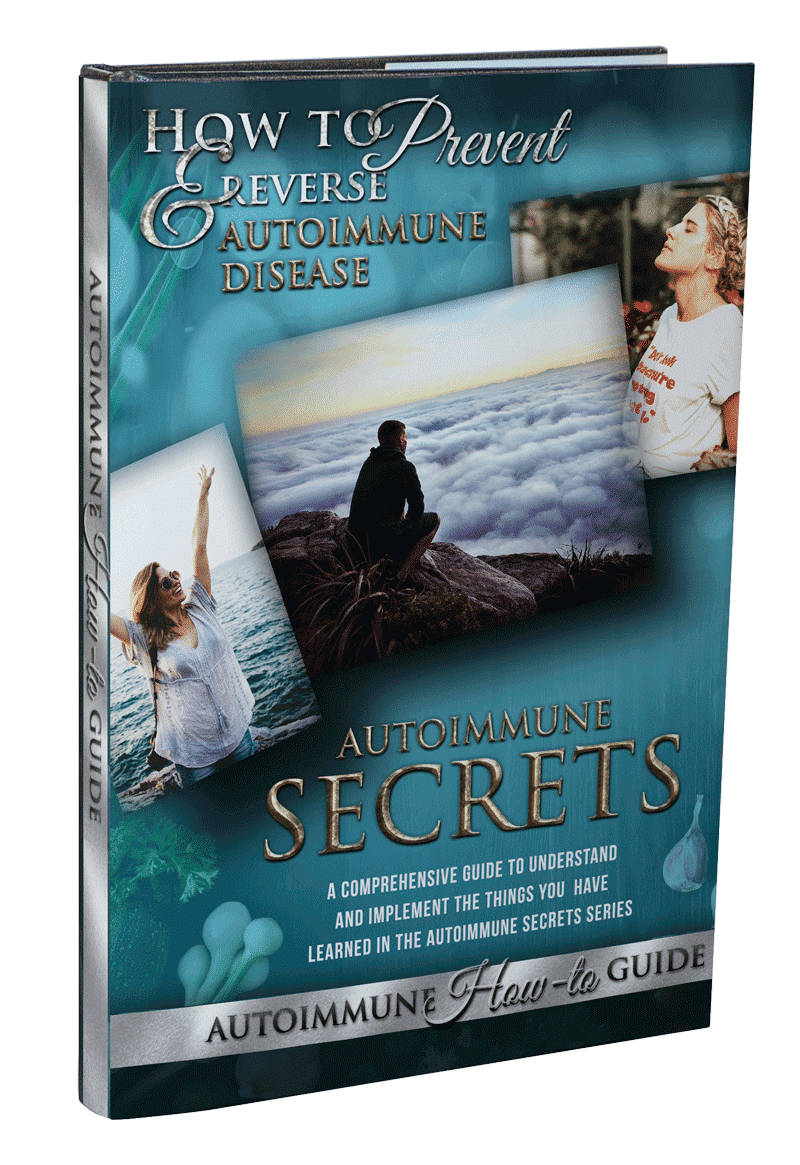 Free Bonus #2: The Inflammation How-To Report
We've interviewed dozens of world-class doctors to present you with the exclusive information in this booklet.

Find out how you can continue your healing journey on your own, by balancing your inflammation with natural and safe treatment alternatives.

Regular Price: $47
TODAY: FREE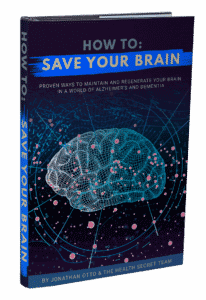 Free Bonus #3: How to Save Your Brain Report
When you have the right information, half the battle is won.

This is why I'm sure you will enjoy adding real health knowledge for your brain's health. Get the information you need on how to nurture brain cells and prevent brain damage — without resorting to expensive drugs and treatments.

Regular Price: $197
TODAY: FREE
Fortified Brain Bundle ~Starter Kit~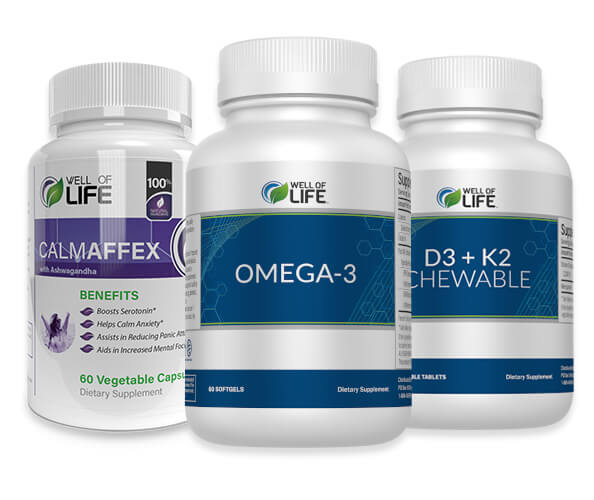 Fortified Brain Bundle ~Classic Kit~
BEST VALUE
INSTANT SAVINGS: $462.55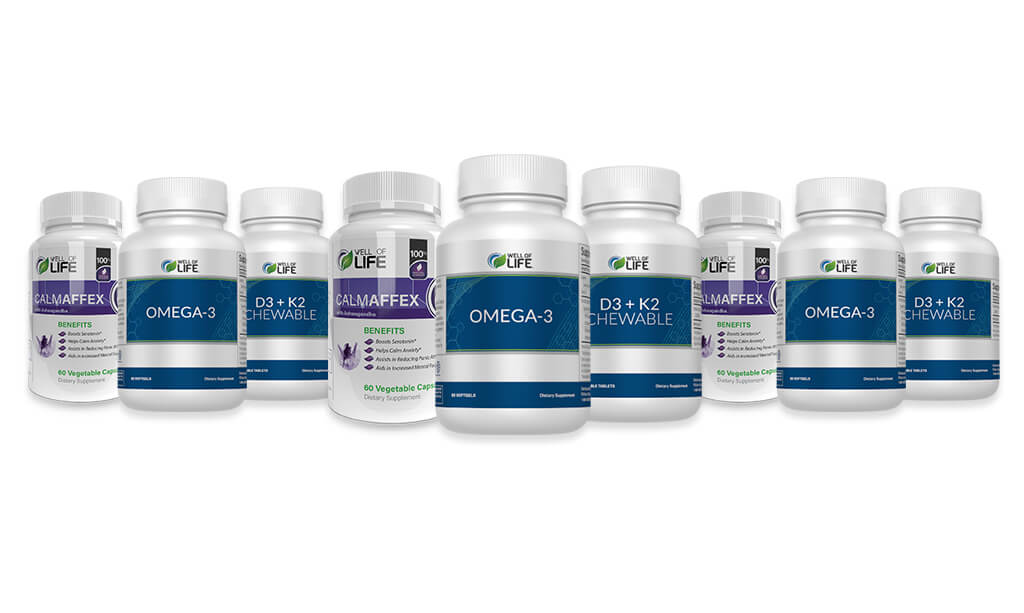 $167 Every Three Months
EXTRA 14% DISCOUNT
(only $18.55 per bottle)
Fortified Brain Bundle ~Complete Renewal Kit~
All you need to do is say "Maybe" to the Fortified Brain Bundle. If you don't see dramatic results with our natural protocol, you are protected by our 60 day money-back guarantee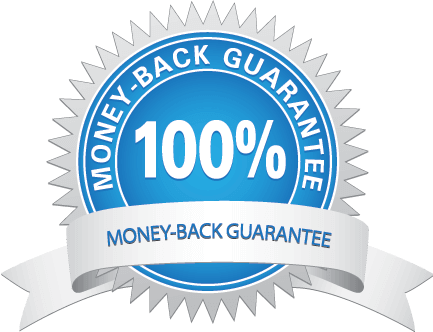 *THE 3-MONTH BUNDLE for only $167 is a supplement subscription that comes with convenient, automatic renewal. No interrupted treatment, no chance of us running out-of-stock. At any point, you are protected by our full 60-days guarantee — and during these 60 days you can cancel anytime.
And if you like how our supplements are improving your health, you don't have to do anything. The subscription renews automatically at the discounted price of $18.,85 per bottle every 3 months. *
Disclaimer: Statements on this website have not been evaluated by the Food and Drug Administration. Products are not intended to diagnose, treat, cure or prevent any disease. You should always consult with your healthcare practitioner prior to starting any new dietary supplement or program.